By Jonas and Marlin Lehmann, Tis Meyer

Disclaimer
The hobby of plane-spotting is neither understood nor supported by the local authorities in the UAE. It is therefore likely that this hobby will run you into some kind of trouble sooner or later - while "trouble" may range from a simple check by police, the formatting of memory cards or the seizure of photography equipment all the way to being questioned at a police station or even imprisonment.
Taking pictures from the hotels mentioned below should generally be a relatively safe option. Whenever you do venture out to more exposed spots, please make sure to keep a low profile. Use a car so you can move quickly. Only stay at a certain location as long as you really need to. Hide your camera on the floor of the car whenever you're not using it. Take care not to raise suspicion with your behaviour though.
We would like to state very clearly that you are performing photography and plane-spotting in Dubai exclusively at your own risk, even if you follow the tips and instructions in this guide. Neither the owner of this website nor anyone working on this or other guides shall be held responsible or liable for any negative experiences, more severe consequences or the loss of your property.
Traffic
The traffic in Dubai is known for its diversity and rarity of aircraft. This is where the world meets. Emirates alone - the top dog and flag carrier - connects Dubai with more than 130 destinations worldwide. FlyDubai is a subsidiary of Emirates, which was founded in 2009. The airline is flying with almost 30 Boeing 737-800's to surrounding regions, solely out of Terminal 2. Dubai has the most number of international workers which does affect the traffic. There are several dozen daily flights starts to India, Bangladesh and Pakistan. Meanwhile, Qantas has moved the former Kangaroo Route via Singapore to Dubai. In addition, the Africa business is highly popular which pulls many rare highlights to Dubai, for example African Express on their MD-83 or RwandAir from Kigali.
Runway Usage
The airport has two parallel runways. Both are in operation. One is used for takeoffs, the other for landings. Both have a length of 4400 meters, respectively 4000 meters. If Rwy 30 (L/R) is in use, all arrivals are coming into land on Rwy 30L, except (mostly) FlyDubai and the private jets due to the runway crossing and the length of taxi time. All other passenger and cargo aircraft arrive on Rwy 30L. Runway 30R is used for departures. If there is less traffic they may use for about three hours Rwy 30L for inbounds and outbounds only! But this is more likely rare. In case of Rwy 12-operation, runway 12R is the take-off runway. All arrivals use Rwy 12L (no exceptions). Both runways are equipped with ILS-systems.
Caution
The hobby of plane-spotting is not really understood in this part of the world, and it isn't uncommon to run into trouble. The safest strategy is staying at a hotel that offers plane views (thankfully, there are quite a lot of those around DXB!). If you're more adventurous, there are some spots around the airport that are good for taking pictures. However, try to keep a low profile at any time.
More hotels suitable for spotting can be found over at plane-spotting-hotels.com.
Spotting Points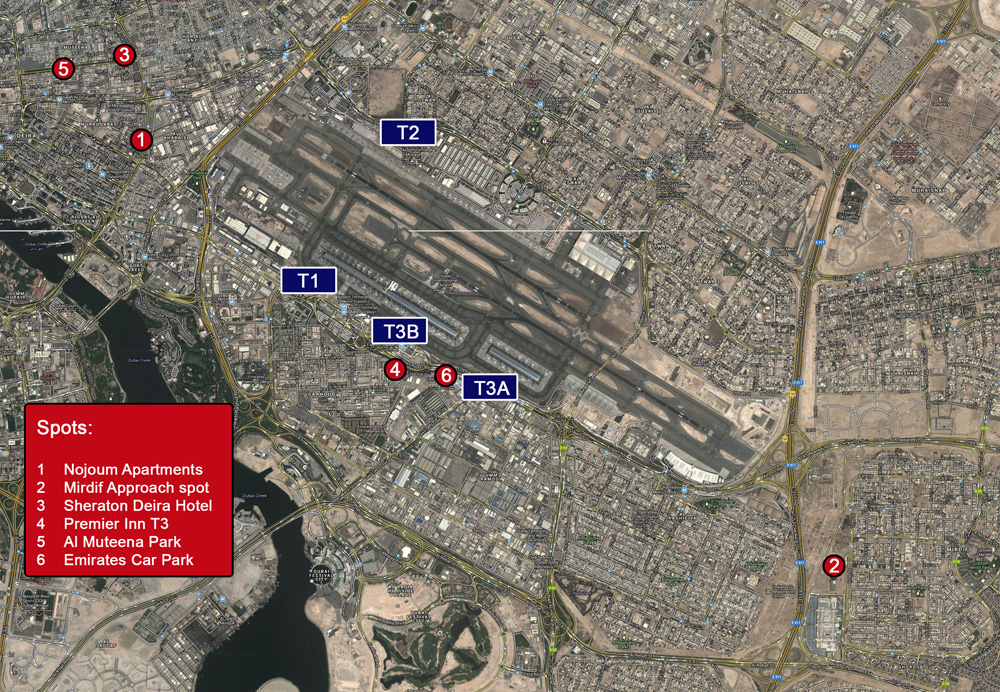 Spot 1: Nojoum Apartments' rooftop pool
You want your spotting trip to be a real holiday? Lingering in the swimming pool and watching planes sounds good? Then this is your place! The rooftop pool of the Nojoum Apartments Hotel located west of the airport offers perfect view of Rwy 12 arrivals and okay views of low Rwy 30 climbouts.
This hotel is maybe a tiny bit too far away from the runway axis for your liking. However, image quality is still good, especially in the colder months. You can download this zip file (20 MB) containing 4 of my unedited, uncropped photos to check their quality. Shot with an EOS 7D, 400mm, in November with a temperature of 30 degrees Celsius.
| | |
| --- | --- |
| | A 10-12min walk from both Abu Baker and Al Rigga Metro stations. |
| | Lots of restaurants and shopping malls nearby. |
| | 300mm for widebodies, 400mm + for narrowbodies. |
| | Arrivals on Rwys 12, climbouts from Rwys 30. |
| | Light is best after midday and becoming better as the day progresses. |
| | Don't disturb other hotel guests - smile and behave to make sure spotting remains tolerated by the management! |
| | | | | | | |
| --- | --- | --- | --- | --- | --- | --- |
| Looking nice, eh? | Rwy 12L arrival at 120mm | Narrowbody approaching Rwy 12L at 400mm, uncropped | Climbing out of Rwy 30R | Climbing out of Rwy 30R | Apron views are possible too - prone to heat haze though. |   |
Spot 2: Mirdif, Approach Rwy 30L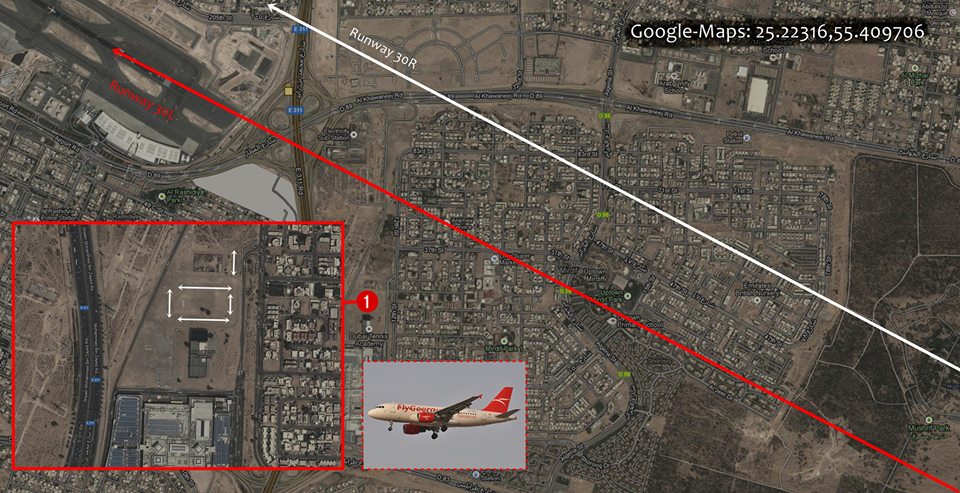 Climb-out pictures are not to your taste? Okay, then test out Spot 2 in Mirdif! The spot is located next to the "Mirdif City Centre 2" and the "Dubai Tennis Academy Mirdif" on a patch of sand. Sometimes you are not the only spotter... This point is quite easy to reach by simply taking a taxi to the Mirdif City Centre 2, but the "two" is important! The light situation is the same as at the first spot: Light is best after midday and becoming better as the day progresses. Be on the lookout for anyone who may seem like they want to notify the authorities about your activities. The area by the tennis courts is used as a bus parking area between times when the buses are not required to transport workers. South Asians generally use the surrounding area to play cricket towards the evening and they are known to dob people in. A car is recommended in this spot too. Do not try and shoot from the nearby Mirdif City Centre mall carpark rooftop - it is closely watched and there will be someone asking what you're doing immediately..
Inbounds for both runways can be seen from here, although you need more focal length for Rwy 30R inbounds.
| | |
| --- | --- |
| | Shuttle or Taxi to Mirdif City Centre 2 |
| | Hundreds of restaurants at the mall |
| | Rwy 30L: 110-220mm, Rwy 30R: 200-400mm |
| | Inbounds for both runways |
| | Second half of the day. |
| |   |
| | | |
| --- | --- | --- |
| Approaching Rwy 30L | Approaching Rwy 30L |   |
Spot 3: Sheraton Deira Hotel 
rooftop pool
It is may the most famous spotter-hotel in Dubai: The one and only Sheraton Deira. But it isn't the cheapest way the get some good aircraft photos. Room price: about 100 Euros per night. I rather would take the Nojoum Hotel Apartment. The pool is very pleasant for spotting; containing a bar, toilets and enough pool stairs.
| | |
| --- | --- |
| | A max. 4 min walk from the Abu Baker 2 (Al Siddique) stations |
| | There's a supermarket in front of the hotel (opened 24h) |
| | 55-210mm for inbounds on Rwy 12L, 190-340mm for outbounds Rwy 30R |
| | Inbounds and outbounds on Rwy 30R/12L |
| | From 10am until sunset |
| |   |
| | | | | |
| --- | --- | --- | --- | --- |
| Rwy 12L arrival | Rwy 12L arrival | Rwy 30R climbout | Rwy 30R climbout |   |
Spot 4: Premier Inn Hotel
The Premier Inn hotel is a quite new one. The opening only two years ago. It is located on the opposite of Terminal 3 in the "52th B Street, Garhoud". A new room amenities and clean rooms will ensure a pleasant stay. Even the fresh food is very good. There are several shuttle buses to the Holiday Inn Express (next house) or to the Premier Inn. Spotting at the floor window is the best option to get some good photos, so you do not need a reservation.
The traffic is unfortunately restricted, not all aircraft park on the south side of terminal 1 and 3 - the bulk is Emirates.
| | |
| --- | --- |
| | Shuttle bus from all terminals |
| | Food available in the hotel restaurant |
| | 95mm for widebodies, max. 200mm for pushbacks |
| | All guest for Terminal 1 and Terminal 3, mainly Emirates |
| | First half of the day and even good for some nightshots! |
| | Don't disturb other hotel guests - smile and behave to make sure spotting remains tolerated by the management! |
Spot 5:
The 5th Spot is located right away on Al Muteena Street on the left hand side of the Al Muteena Park. The Busline C7 is conected with this spot in a 20 minute interval. There are two possible bus stops, named: "Mateena Road 2" and "Mateena, Ent.". Beside the Al Muteena Street are a lot of benches to have a seat.
| | |
| --- | --- |
| | At the Marco Polo Hotel |
| | Some restaurants around the spot |
| | 210-400mm |
| | Departures out of Rwy 30R |
| | Second half of the day |
| |   |
| | | |
| --- | --- | --- |
| Rwy25L departure (250mm) | Rwy 07R arrival (200mm) |   |
Spot 6: Emirates Parking Garage
This is a very hot and dangerous spot. It offers great views down towards the gap between Terminal 3 and the New Emirates A380 Concourse, and the taxiways leading there; and also allows views all the way to the runway. However, authorities do not like plane spotters here at all and there are several security measures in place. It is not uncommon to have memory cards formatted or cameras seized by security, and it's even possible to spend some time in jail. Do not spend a long time up there. It's best to stick the hotel and approach spots mentioned above, but if you just have to, make your stay a short and quick one and keep as low a profile as possible. You must find an area overlooking the airfield which is free of CCTV cameras. The same issue as the Premier Inn Hotel applies here - traffic may be limited to Emirates and narrowbodies of airlines using T1 - the widebody gates are situated on the runway side of the terminal.
Special disclaimer: The owner of this website and all people working on this guide do NOT recommend you to use this spot. If you do go, you do so at your own risk only, and none of the aforementioned persons shall be held responsible for any negative consequences.
| | |
| --- | --- |
| | Just west of the 'Emirates' Metro Station, next to the Emirates HQ. You must have a car to access the car park building. Going by foot is sure to attract attention. Refer to the disclaimer at the top of the page. |
| |   |
| | 140mm for a narrowbody on the closer taxiway, 400mm and more needed for aircraft on the runway and the taxiways there. |
| | Planes taxiing to T1 and T3 on two taxiways, some gates, runway 12R/30L and parallel taxiways in the distance (heat haze is a huge factor there!) |
| | From around 10AM till sunset. Recommended in winter when it's somewhat cooler. |
| | This is a very risky spot! Read the disclaimer above, be sure to keep a low profile and keep in mind that you're visiting at your own risk! |
| | | | | | |
| --- | --- | --- | --- | --- | --- |
| View on the two taxiways and towards the runways (160mm) | Taxiway and gate view (130mm) | Narrowbody on the closer taxiway (140mm) | Out on a taxiway parallel to the runway (360mm) | On Rwy 30L (400mm+) |   |
.